Australia kan by på store og legendariske navn som Luke McKenzie, Craig «Crowie» Alexander og Chris «Macca» McCormack! Men vi i STriK har våres egen aussie, nemlig maskinen Eugene «Bluey» Bilinski.
Hva var din beste konkurranse i år?
I would say Rockman was my best competition and most fun. I thought I would hate swimrun but it turns out I really enjoy it. I was urged to enter by my partner Stain Sletten and together we formed the "Rockhuggers". I had absolutely no idea what to expect or how we would perform but it was nice to go into a race without expectations. The race was absolutely brutal so it was extremely satisfying to cross the finish line.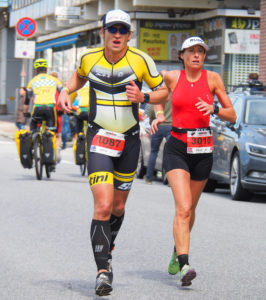 Hva er det morsomste som har skjedd i årets sesong?
I was completely exhausted during Rockman but we still had the Lysefjord crossing and 4444 Flørli steps to go. We got to the last aid station before the crossing where they were serving waffles and Redbull. I can tell you those waffles were delicious and even though I never drink Redbull during competitions, it was just what I needed. We ended up passing a number of teams across the fjord and up the stairs!

Also I can admit that being frightened to death in Haugesund when Strik's Daniel Higraff and Tore Anvik snuck up on me when I was walking down the street the day before Ironman 70.3 Norway was a bit funny too.
Hva er det verste som har skjedd i forbindelse med konkurranse eller tening for din del i år?
Luckily I've had no injuries or major bike crashes this year. I was aiming for a personal best in half-iron distance during Challenge Norway this year, but after a decent swim and bike during Challenge Norway I completely blew up during the run. I pushed hard on the bike to stay with a fast group of riders and managed to hold them most of the way but I think I paid for it on the run. I received a run split on the first part of the run and I was still on course for a PB but after that I soon ran out of gas and couldn't hold my pace. The run course seemed tough for many competitors, maybe it was climbing up Slottsfjell twice or the run course being over 1km longer than expected. I was still happy to make it to the finish line.
Har du noen rare fakta eller hemmeligheter fra årets sesong?
During Challenge Norway my Garmin had somehow switched to miles. I had no idea what speed I was averaging during the bike or run as the numbers were way off what I expected. I'll use that as another excuse to blame my poor performance.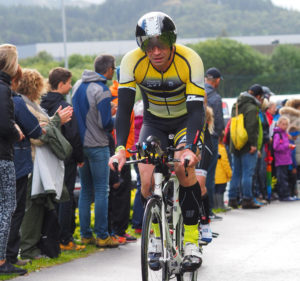 Hvilken konkurranse var du mest nervøs for i år?
I was most nervous for Rockman, especially after hearing during the race briefing that the race would start by jumping off the ferry and then swimming into and out of a narrow feature in Lysefjord called Fantahålå. I thought it would be chaos but it turned out to be ok.

Hva var det første du gjorde etter du var ferdig med din siste konkurranse for i år?
I ate a very big burger and washed it down with a milkshake and craft beer at Kvernertiet in Tønsberg. Probably one of the best burgers I've ever had!

Hva er dine målsetninger for neste år?
I'm still enjoying the off-season, but I would like to try Norseman. Depending on whether I get in or not will determine the rest of my season. I think BryneTRI will also be on the list next year as I missed it this year.

Og til slutt, om du ikke drev med triatlon, hva annet hadde du brukt fritiden din på?
I like to keep active outside of triathlon, particularly if its outside in the Norwegian nature. Winter is coming and I really enjoy skiing and toppturing, cross country skiing is fun also. I also enjoy rockclimbing and hiking.